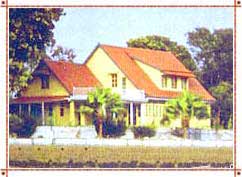 There are numerous Jhalawar excursions worth visiting around the city. Amongst them, some of the most famous ones that should be included in a Jhalawar excursion tour are:
Ren (Rain) Basera
Ren Basera is a beautiful wooden cottage situated 6 km from Jhalawar, on the Jhalawar-Kota Road. Maharaja Rajendra Singh brought it from exhibition in Lucknow and set it up on the banks of Kishan Sagar.
Jhalara Patan
One of the famous excursions around Jhalawar, Rajasthan is Jhalara Patan, the City of Temple Bells. The city is surrounded by a wall and is situated about 7 km from Jhalawar, on the banks of the holy Chandrabhaga River. Parmara Chandra Sen, grandson of Maharaja Vikramaditya founded this city. The famous temples of Jhalra Patan include the 100 ft high Surya Temple (10th century), Shantinath Jain temple (11th century) and Shri Dwarkadheesh temple. There is also a cluster of some beautiful temples on the Chandrabhaga stream, dating back from 6th to 14th centuries.
Gagron Fort
The Gagron fort, 12 km from Jhalawar, was founded in the 7th century and fully completed in the 14th century. The fort is quite famous for the Dargah of Sufi Saint Mittheshah outside it, the venue of an annual fair held during Moharram. The fort is amongst a very few others that are both a vana durg (forest-protected) as well as a jala durg (water-protected).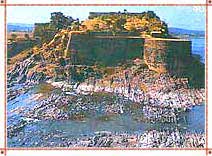 Buddhist Caves and Stupas
The only rock-cut caves in Rajasthan fall in the district of Jhalawar. These Buddhist caves are located in the village Kolvi. The main attraction of the caves is a massive figure of Buddha and some carved stupas.
Atishay Jain Temple
Situated 34 km from Jhalawar is Atishay Jain Temple, dating back to the 17th century. An architectural marvel, the temple enshrines 6 ft tall statue of Adinathji.
Bhimgarh
Bhimgarh is an old township situated on the banks of Parwan River. Its main attractions include a huge idol of Lord Ganesh and an 8th century Shivlinga. There are a number of temple ruins here that are worth a visit. Near Bhimgarh are some old temples dedicated to various Hindu and Jain deities, now in ruins.
Manohar Thana Fort
Manohar Thana, meaning beautiful outpost, is a walled town with a sturdy fort. The fort is built at the confluence of rivers Parvan and Kaalikhad. The fort was made quite impregnable with double fortification outer wall and battlements, with another circle of walls and battlements running inside.
Jain Swetambar Nageshwar Parshwanath Temple
This is an ancient Jain temple dedicated to Lord Parshwanath. This beautiful marble temple enshrines a 1000 yr old statue of Parshwanath.
Fort of Gangadhar
The fort of Gangadhar, 120 km from Jhalawar, houses some of the oldest rock inscription of the area, along with some fabulously built temples.