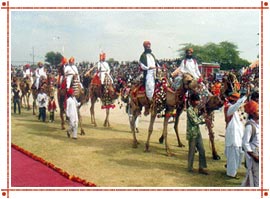 Department of Tourism, Art & Culture, Rajasthan organizes the Camel Festival in Bikaner every year. The festival takes place in the month of January. Rajasthan Camel festival is basically dedicated to Camel, the ship of the desert. It is held in the city of Bikaner with the massive and magnificent Junagarh Fort serving as the background. The camels, dancing to the tunes of their owners and trainers attract hoards of tourists to this festival every year.
Camel is regarded to be of much importance in the desert state of Rajasthan. And the worth of the camels is reflected in the way a proud breeder dresses up and displays his camels. A colorful procession of ornamented and decorated Camels marks the opening of the Camel Festival of Bikaner, Rajasthan. With the advancement of the festival celebrations, follow the other attractions of the Camel Festival including the best breed competition, the tug-of-war contest, camel dance, acrobatics, etc.
The efforts and the hard work of the trainer show in the way camels dance to his tunes and directions, displaying amazing footwork. The camels ornamented with bridles, bejeweled necks, jingling anklets and casting long, lanky shadows on the sand mesmerize the onlookers. In the evening, superb artists and folk dancers enchant you with their performance and charisma. Dancing with their skirt whirling in the sky, they present a figure of euphoria. Along with that, the fire dancers balancing burning lamps on their foreheads while dancing, leave you speechless.