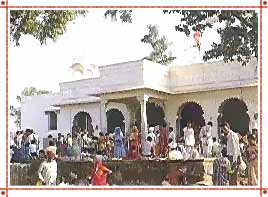 Given below is a list of places that can be included in a Banswara excursion tour:
Arthuna
One of the famous Banswara excursions is Arthuna, the village of old and broken temples. Once the capital of the Parmar rulers, it is a place of great archaeological interest. Arthuna is mainly famous for a number of ancient Hindu and Jain temples, dating back to the 11th and 12th century. A number of excavations have been carried in this area, bringing forth a number of temples that reveal its rich past and heritage. Amongst the numerous articles excavated is an exquisitely carved conjugated statue of Shiva, Parvati and Ganesh.
Talwara
Approximately 15 km from Banswara is the town of Talwara. It is known for a number of old temples and some ancient monuments, now in ruins. The most famous temples in Talwara are the temple of Sun God, Lord Amaliya Ganesh Temple, Laxmi Narayan Temple, Dwarka Dhish Temple, Jain temple of Sambharnath, etc. Talwara is also renowned for its Sompura sculpture artists that carve beautiful statues from the local black stone.
Tripura Sundari Temple
One of the places to see in Banswara is Tripura Sundari temple, dedicated to Goddess Tripura Sundari or Turtia Mata. The temple, said to be one of the Shakti Peeths, enshrines a beautiful black stone idol of the Goddess. Riding on a tiger, the goddess idol has 18 hands, each carrying some symbol. The legend has it that this temple was built before Samrat Kanishka, who once ruled this place.
Paraheada
Paraheada, 22 km from Banswara, is mainly famous for a Lord Shiva temple. Dating back to the 12th century, the temple houses an inscription providing information about Parmar rulers.