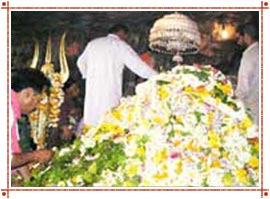 There are numerous tourist attractions of Banswara to keep you entertained while on a tour of the city. Some of the famous places to see in Banswara are:
Mahi Dam
Another one of the excursions around Banswara, Rajasthan is the Mahi Dam, built under the Mahi Bajaj Sagar Project on the Mahi River. Over time a number of dams and canals were built over the picturesque surroundings. The Mahi River also has a number of islands inside the Mahi Dam catchment area, which give Banswara the name of "City of Hundred Islands".
Kagdi Pick Up Weir
Situated 3 km away from the main city on the Ratlam Road, it is a part of the Mahi Bajaj Sagar Project. This place is famous for its fountains and gardens, spread over a wide area.
Madareshwar
Madareshwar is a Lord Shiva temple situated in the eastern part of Banswara. The temple is inside a natural cave of a high hill and offers an awesome view of the scenery below.
Abdulla Pir
Abdulla Pir is the dargah of Abdul Rasul, a Bohara Muslim saint. The dargah is situated in the southern part of Banswara city. The people of Bohara community throng the dargah every year at the time of Urs, an annual Muslim fair.
Anand Sagar Lake
Banswara, Rajasthan sightseeing tour must include Anand Sagar Lake, situated on the eastern side of Banswara. An artificial lake, it is said to have been constructed by Lachhi Bai Of Idar, the Rani of Maharawal Jagmal. Near the lake are the royal chhatris or cenotaphs of former rulers of the state. Kalpa Vriksha, holy trees said to fulfill the desires of visitors, surround this picturesque lake.
Chheench
A 12th century Brahma temple, Chheench has a black stone statue of the deity.
Diablab Lake
Covered with beautiful lotus flowers, Diablab Lake houses Badal Mahal, the summer resort of the former rulers, on its banks.
Shri Raj Mandir
Shri Raj Mandir is a 16th century palace, still lived in by the royal family. The palace is a beautiful example of the Rajput architectural excellence.
Ram Kund
Ram Kund is a deep cave situated under a hill. There is a legend attached to it that Lord Rama stayed here during his exile. There is a pool of very cold water that is found throughout the year.
Bhim Kund
Bhim Kund is believed to be the place where the Pandavas stayed during their exile.