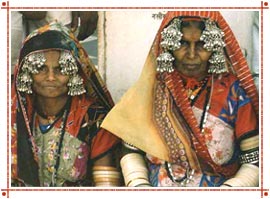 Rajasthan jewelry counts amongst the best in the world. Infact, the state is quite popular for its jewelry industry and is one of the world's largest centers for hand cutting of gems. It also serves as an important source of precious and semi precious stones in India. Ruby, Emerald, Garnets, Agate, Amethyst, Topaz, Lapis lazuli, Carnelian, etc count amongst the finest gems of Rajasthan, India. The most famous market of Rajasthani gems & jewellery is the Johari Bazaar Market of Jaipur. Infact, it ranks amongst the most exclusive jewelry markets in the world. Some of the major works of Rajasthan are
Silver Jewelry
Right from headbands to the anklets, each and every silver item is made in Rajasthan.
Lac Bangles
Made from molten Lava, Lac Bangles are a specialty of Rajasthan.
Kundan
It is art of setting stones in gold. The cities famous for Kundan work are Bikaner and Jodhpur.
Minakari
It is the art of enameling in gold and silver for other metal. The cities famous for Minakari work are Jaipur, Nathdwara and Pratapgarh. Apart from these, Rajasthan is also famous for uncut diamonds, emerald-cutting and Thewa (gold work on glass).
Some of the traditional ornaments available in Rajasthan are:
Rakhdi (head ornament)
Tussi (necklace)
Baju Bandh (armlet)
Adah (special necklace worn by Rajputs)
Gokhrus (bracelets)
Pajebs (anklets)