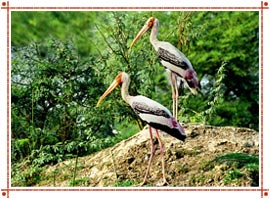 Originally a duck shooting preserve of Maharaja Suraj Mull of Bharatpur, the Bharatpur Bird Sanctuary of Rajasthan was declared a national park in 1982. Later, in 1985, it was listed as a World Heritage site by Unesco. At present, the Rajasthan Keoladeo Ghana National Park serves as one of the chief breeding and feed grounds for the birds around the world.
Wildlife Attractions
The Bharat Pur Wildlife Sanctuary, of Rajasthan, houses approximately 300 species of birds. Amongst them, the most prominent ones are Painted Storks, Open and Spoon Bills, Egrets, Cormorants, White Ibis, Jacanas, While Harriers, Fishing Eagles, Pied Kingfisher, etc. However, the most awaited species of birds is the Siberian Crane. Apart from Iran, India is the only place where this bird migrates in winter.
Bharatpur sanctuary remains open throughout the year from sunrise to sunset. There is permission for vehicles to go up to Shanti Kutir, i.e. approximately 1.7 km inside the park. Beyond this point, the options are to walk or take a bicycle or go by a cycle rickshaw. Even tongas and boats are available when the water level is high.
A hunting ground for the Maharaja, Bharatpur was formed by transformation of the shallow depression created by the union of River Gambhir and River Banganga. This was then formed into a reservoir by damming the rainwater in monsoons. The ultimate result was the formation of a shallow wetland ecosystem, a perfect habitat for birds. The park continued to be a hunting preserve for the Maharaja and the British till 1964.
In the following years, hunting in the area got banned. Plantation of acacias, under a policy of forestation) was followed with a great zeal. However, till date, the ecosystem at the Park is in a delicate state. The culprits behind this are the tourist pressures and water needs of the nearby residing villagers. Some of the bird species continue to live in a state of endangerment, especially the Siberian crane.