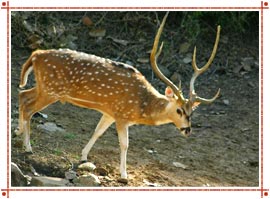 Situated approximately 200 km from Delhi and 107 km from Jaipur, the Sariska National Park of Rajasthan has a landscape similar to that of Ranthambore. Housing the National Animal of India, Tiger, the Sariska Tiger Reserve of India spreads over an area of 800 km, the core area being 500 km. After being declared a sanctuary in 1955, it was later converted into a National Park, in 1979. Although Sariska remains open almost throughout the year, but the best time to visit is from October to April
The climate of Rajasthan Sariska Wildlife Sanctuary is quite inconsistent and unpredictable. Northern Aravalli hills, with their sharp cliffs and long narrow valleys, dominate the topography of Sariska. Scrub-thorn arid forests, dry deciduous forests, rocks and grasses are some of the other features of the geography of the park. There are a number of water holes throughout the Sariska Wildlife Sanctuary, serving the needs of its inhabitants.
Wildlife at Sariska Wildlife Sanctuary
The rich wildlife of the Sariska National Park consists of Leopard, Wild Dog, Jungle Cat, Hyena, Jackal, Tiger, Sambar, Chital, Nilgai, Chausingha, Wild Boar, Langur, Rhesus Monkeys, etc. Also a habitat to numerous varieties of birds, the park is full of birds like Peafowl, Grey Partridge, Bush Quail, Sand Grouse, Tree Pie, Golden backed Woodpecker, crested Serpent Eagle, The Great Indian horned Owl, etc.
The wildlife sanctuary, a heritage of the Maharaja of Alwar, is located in the Alwar district. Apart from animals and birds, the other attractions of the sanctuary include a number of pavilions and temples. Also famous, is the Kankwadi Fort near the sanctuary.