The main places for excursions around Alwar, Rajasthan are: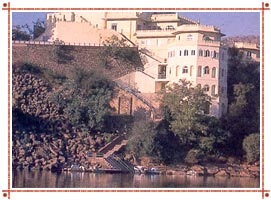 Neemrana Fort Palace
Neemrana Fort Palace is situated in the Neemrana village of Alwar district. Dating back to the 15th century, the fort has now been converted into a heritage hotel. Infact, it is one of the oldest heritage resorts in the country and still retains its historic grandeur.
Kesroli Hill Fort
Yaduvanshi Rajputs built Hill fort of Kesroli, near Alwar, in the 14th century. Situated amidst picturesque agrarian surroundings, the fort now counts amongst the oldest heritage hotels in India.
Siliserh Lake and Palace
One of the famous Alwar excursions is the Siliserh Lake. The lake spreads over an area of approximately 10.5 sq. km. Located almost 12 km to the southwest of the city of Alwar, this lake offers peace and serenity to its visitors. Siliserh Lake is surrounded by low hills and thick forest. On the banks of the lake are some royal cenotaphs. In the year 1845, Maharaja Vinay Singh built a palace (hunting lodge) for his Queen Shila near the lake. Now transformed into a tourist bungalow, it still serves as a delightful tourist spot.
Talvrakash
Located on the Sariska-Alwar road, is a famous pilgrim spot, Talvrakash. A well-known Rishi, Mandav, underwent penance at this place. Pilgrims come to this place to take a dip in the hot sulphur springs. Surrounding Talvrakash are many temples and numerous langurs (apes) wandering about the place.
Bhartrihari Temple
The Bhartrihari temple is a prominent pilgrimage center. There is a cenotaph of the legend associated the place with King Bhartrihari, who abandoned the world 21 centuries ago. He roamed about in these parts in penance and even has his cenotaph here. Every year a fair is organized at the temple in the months of September/October.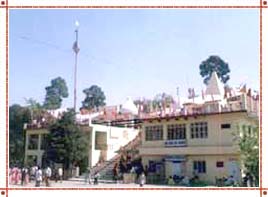 Sariska
Alwar excursion tour is incomplete without a visit to the Sariska National Park. This sanctuary is located 37 km from the city of Alwar. Covering an area of approximately 800 sq. km. (core area being 500 sq. km.), Sariska has a rich wildlife and even a wide variety of birds. Apart from that, attractions of Sariska include the Sariska Palace, constructed by Maharaja Jai Singh.
Vijai Mandir Palace
Located almost 10 km from Alwar, is the Vijai Mandir Palace. Built by Maharaja Jai Singh in 1981, the palace houses a Sita Ram Temple. Enhancing the scenic beauty of the palace is a lake, adjacent to it. However, the palace is not open to tourists and special permission has to be taken from the secretary for the purpose.