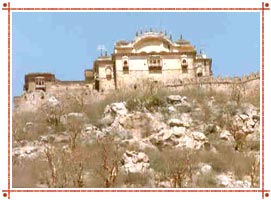 There are numerous tourist attractions of Alwar worth seeing. Most of these places have some history attached to them. They bring alive the royal past of the city. Some of the places to see in Alwar are:
Bala Quila
Alwar, Rajasthan sightseeing tour must include the Bala Quila (young fort), dominating the skyline of Alwar. Built atop a hill, the fort is located approximately 595m above the city. It stretches about 5 km from north to south and 1.6 km from east to west. Bala Quila contains 15 large and 51 small towers, comprising of approximately 446 loopholes for the musketry. Other attractions of the fort include Nikumbha Mahal Palace at the top. The palace is adorned with Bengal caned marble columns and latticed balconies. The fort has six gates, namely Jai Pol (gate), Suraj Pol, Laxman Pol, Chand Pol, Krishan Pol and Andheri Gate.
City Palace
Raja Bakhtawar Singh built the City Palace in 1793 A.D. A fusion of Rajput and Mughal architecture, the palace has a central courtyard festooned with marble pavilions set on lotus bases. Among other things, the palace was famous for a drinking cup cut out of a single emerald, housed in its treasury. Presently, the palace has been transformed into the district's collectorate, and houses government offices.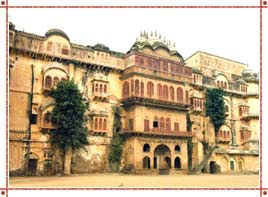 Alwar Government Museum
A part of City Palace of Alwar has now been converted into a museum. The museum houses a rare collection of Persian and Sanskrit manuscripts, arms, musical instruments, bidri work, miniature paintings, stuffed animals, exquisite brass and pottery works (from Jaipur, Multan, Bengal and Ceylon), lacquered and ivory work, etc.
Purjan Vihar (Company Garden)
Built during the reign of Maharaja Shiv Dan Singh in 1868, Purjan Vihar is also known as the Company Gardens. This scenic garden serves as a popular picnic spot during summers. One of the most attractive features of the garden is setting known as Shimla. It was built by Maharaja Mangal Singh to provide cool shades as a relief from the scorching summer heat