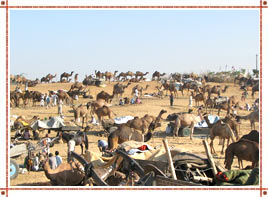 Camel Fair of Pushkar is known worldwide for its colorful atmosphere. Most of the people plan a trip to Pushkar at the time of the fair. Besides, it is also visited as a pilgrimage by the Hindus. The town also claims to have the world's only Brahma Temple. If you're pondering over what to do and see in Pushkar, donít worry as this article is solely dedicated to things / fun activities to do in Pushkar, Rajasthan.
Check out the colorful bazaars.
Of course, Rajasthan is recognized for its graceful culture, colorful clothing and amazing hospitality. Markets (bazaars) in Pushkar revive the complete charm of Rajasthan. Here you can get lot of things (puja paraphernalia, hippy clothes, silver jewellery, painting, fruits, vegetables, etc, are just to name a few) at good rates, if not exactly cheap.
Visit Ghats & Temples.
Along the banks of the holy lake in Pushkar, one can see a number of ghats and temples which are revered by pilgrims whole-heartedly. If you wish to pay a visit, you are welcome but keep in mind that your clothes must not be offensive or hurting the sentiments of anyone. Before going into a temple, remove your shoes outside.
Explore Camel Fair
Pushkar Camel Fair is usually held in November. People, who breed camels and horses, assemble here from all over the country. Now as it has become a major attraction, hordes of national and international tourists come here to enjoy the fair. In fact, Camel Fair is one of the biggest festivals in India and is worth visiting.
Visit the world's only Brahma Temple.
Pushkar is celebrated for this temple which is dedicated to Lord Brahma. Thousands of pilgrims come every year to visit this revered temple. If you wish to trek a little, then you can trek up the hilltop and visit the Saraswati Temple overlooking the lake.
Cherish sunset by the Lake.
Sunset by the lake sounds beautiful. And Pushkar actually observes this spectacular sunset every evening. Here tourists usually gather at the Sunset Cafe in the evening, to watch the sunset. The Sun going down amid mountains, lakes and ghats appears beautiful.
Enjoy Hot Air Balloon Flight
This is the best thing you can experience in Pushkar. Savoring a kaleidoscopic view of the holy town is just beautiful. In October - December at the time of Camel Fair, a specialized company organizes hot air balloon flight, offering another viable reason for the people to visit Pushkar.