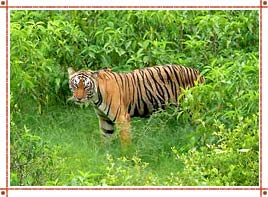 Situated in the Alwar district of Rajasthan, Sarika is known for housing one of the most popular and most visited wildlife sanctuaries in India. Established in the year 1955, the place was given the status of a national park in the year 1979. Sariska National Park is spread over an area of approximately 800 sq km, of which the core area comprises of 500 sq km. The park remains open throughout the year and can be visited almost anytime. In case you want to know what to do and see in Sariska, read on.
Fun Activities to Do in Sariska
See the Wildlife
Sariska is best known for its wildlife sanctuary, which is spread over an area of 800 sq km (core area 500 sq km). The rich wildlife of the sanctuary boasts of species like tiger, hyena, jungle cat, jackal, sambar, wild dog, chital, langur, nilgai, leopard, chausingha, civets, wild boar, rhesus monkeys, etc.
Indulge in Bird Watching
Apart from a large variety of wild animals, Sariska also offers you a rich variety of birds, resident as well as migratory. Golden-backed woodpecker, tree pie, peafowl, crested serpent eagle, sand grouse, the great Indian horned owl, grey partridge, and bush quail, are some of the species that you can easily spot inside the national park.
Explore the Heritage
In the past, Sariska served as the home of the rulers of Alwar and has witnessed some royal times. Serving as a testimony to this fact is the Kankwari Fort, where Mughal emperor Aurangzeb imprisoned his elder brother, Dara Shikoh. Apart from that, there is a palace in the sanctuary, along with an ancient Shiva temple, both of which are worth having a look at.
Enjoy the Jeep Safari
One of the best ways to explore the wildlife at Sariska is by taking a jeep safari. It will take you into the depth of the sanctuary, from where you will be able to explore the wildlife from up close. However, do make to maintain silence while undertaking the safari or you will drive the animals away.
Tips
The park is open throughout the year for pilgrims to Pandupol. But during rains, it's closed for wildlife visits. The most convenient time to go is from November to March, though the best wildlife viewing is during the warmer months.