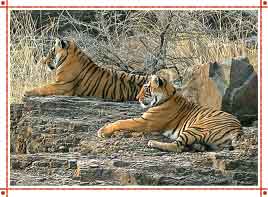 One of the main tourist attractions of Sariska is its exotic wildlife. Apart from that also, there are a number of other places to see in Sariska. Given below is a list of places that can be included in a Sariska, Rajasthan sightseeing tour:
Sariska National Park
The Sariska tiger reserve is mainly known for its exotic wildlife. The rich wildlife of the sanctuary includes Tiger, Leopard, Caracal, Rusty spotted cat, Jungle cat, Four-horned antelope, Sambar, Spotted deer, Wild boar, Nilgai, Jackal, Hyena, etc.
Kankwari Fort
Dating back to the time of the Mughals, Kankwari Fort is the only fort in Sariska. The fort towers above a hill, providing an overview of the Kankwari plateau and the Gujjar villages around it. Showing a Mughal connection with Sariska, this historic monument has some history attached to it. As per the historical records, Aurangzeb imprisoned the eldest son of Shahjahan, his elder brother, Prince Dara Shikoh here. However, the fort now stands mostly in ruins, because of a lack of proper maintenance. If lucky, you may spot Leopards roaming around this area to find some food and solitude.
Ancient Shiva Temple
The sanctuary also houses an ancient Shiva temple. The temple devoted to Neelkanth (Lord Shiva) dates back to the 6th-13th century AD. Surrounded by exotic flora, this temple offers an unearthly sight to tourists.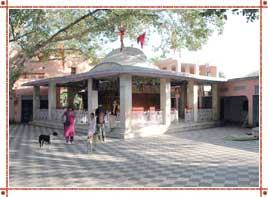 Sariska Palace
Maharaja Jai Singh of Alwar built the Sariska palace to serve as their lodge during their hunting trips. The main attractions of the palace consist of extensive lawns, beautiful antique furniture and photographs of the 1920's Royal Shikar (hunting trips). The palace has now been converted into a heritage hotel.
Pandupol
A temple dedicated to Lord Hanuman, Pandupol has a legend attached to it. It is believed that at the time of their exile, Bhima, a Pandava brother, took refuge here. The temple offers a magnificent view of the of the Pandu gate, where a flowing spring can be seen surfacing from hard and compact rocks.