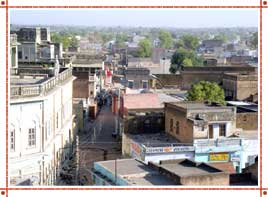 There are a number of famous excursions around Shekhawati, Rajasthan. Some of the places that should be included in Shekhawati excursion tour are mentioned below:
Mandawa
One of the most famous Shekhawati excursions is Mandawa. Built in the 18th century, Mandawa is situated in the Jhunjhunu district. This town is famous mainly renowned for its captivating havelis, namely Chokhani, Saraf, Goenka, Ladia and Gulab Rai havelis. Mandawa also has a castle offering splendid view of the town below. The Mandawa fort, presently a hotel, houses some magnificent paintings, along with a museum. The bazaar of Mandawa has a painted archway as its entrance, adorned with images of Lord Krishna and his cowherds.
Nawalgarh
Another famous place near Shekhawati is Nawalgarh. Thakur Nawal Singh founded the town in 1737. Fascinating the tourists with their beauty, are some of the finest frescoes in Nawalgarh. Apart from two magnificent forts, the town is famous for its havelis including the Chokhani Haveli, Jodhraj Patodia Haveli, Aath Haveli, Bansidhar Bhagat Haveli, and Anaadilal Poddar Haveli. The havelis impress the tourists with their amazing carvings, beautiful paintings, mirror work, etc.
Churu
One of the attractions of Churu is its magnificent fort, built by Thakur Khushal Singh in 1739 AD. The town is also famous for its grand havelis, made of lime and brick. Decorated with exquisite murals on the portico as well as inside of the rooms, these havelis weave magic on the visitors. There are also temples, chhatries (cenotaphs), Johra (water tank) and wells adorned with colorful frescoes, that make Churu a must see town.