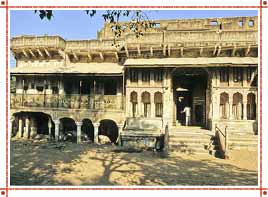 The main tourist attractions of Shekhawati are its numerous havelis. Given below is list of all the destinations that should be included in a Shekhawati, Rajasthan sightseeing tour:
Havelis
The beautiful and fascinating havelis of Shekhawati have proved to be a major tourist appeal. Striking architecture, graceful interiors and massive parapets of the havelis stand witness to the wealth and prosperity of the Marwari merchants. Adorned with exquisite murals and delicately latticed and carved windows, these havelis present an awe-inspiring sight. Almost every havelis is decorated with magnificent mirror work and paintings festooned with gold or silver leaf. During the old days, these wooden carvings and gold and silver paintings were assumed to be symbolical of the owner's status and wealth.
Dundlod
Amongst the other places to see in Shekhawati, is the town of Dundlod, situated in the center of the Shekhawati region. The main attractions of the town are its fort and havelis, dating back to the 18th century. The famous havelis of Dundlod are Jagathia and Goenka havelis.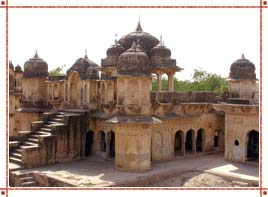 Jhunjhunu
Offering peace and serenity to its visitors, is the town of Jhunjhunu. It is another town famous for its marvelously painted havelis. One of the known havelis is the Modi Haveli, housing some of the best paintings of the Shekhawati area. Then, there is also the Tibrewala Haveli, having numerous murals on it, along with colored glass windows. Amongst the other tourist attractions of Jhunjhunu, are Khetri Mahal (18th century), Bihariji Temple and Mertani Baori (step-well). All of these stand adorned with exquisite paintings.
Fatehpur
The town of Fatehpur was once under the rule of the Muslim Nawabs. A historic town in Shekhawati, Fatehpur has some beautiful havelis. The famous Devra and Singhania havelis of the town are adorned with murals that are of Indo-western style. Another havelis, Goenka has brilliant frescoes paintings, with some of them depicting Lord Krishna.