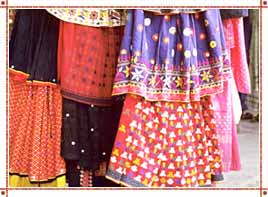 Often called as an Open Air Art Gallery, Shekhawati provides an amazing experience to those with an eye for art and paintings. Shekhawati shopping destinations are mostly famous for their excellent handicrafts. Amongst the numerous handicrafts, the paintings of Shekhawati are quite popular. You will find some amazing paintings to use as decoration pieces for your home or even take back as gifts. Especially, the frescos painted on paper and cloth are truly amazing.
Read on this Shekhawati shopping guide further, to know more about shopping in this area:
Shopping places in Shekhawati, Rajasthan can also provide you with some excellent furniture. Carved and decorated chests, chairs, cradles, low tables, stools, etc are very much preferred by the Shekhawati shoppers. There are numerous other utilities made up of wood like made-as-old furniture available in the city. Apart from these wooden items, the popular shopping items of Shekhawati include textiles, tie-dye fabrics, brass and iron scissors, metal utensils, bangles, etc.
You can go shopping in various emporia and private shops that are present almost in every market. Also, you can go to the various tourist destinations in the city, where many local artisans erect roadside stalls. You can even bargain a little in these stalls. Shopping in Shekhawati definitely proves to be a pleasant experience for its visitors.