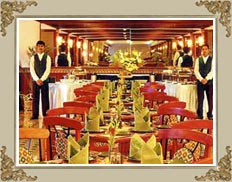 Andhra Pradesh is a beautiful state that allures people from all over the world with its bewitching charm. The state provided tourists with loads of reasons to visit. Whether it is religious places or beaches, shopping or cuisine, IT industry or historical monuments, Andhra Pradesh has many attractions to offer, making it a complete tourist destination. If you are visiting Andhra Pradesh and have any doubts regarding accommodation, leave your worries aside since the state has many places to stay.
There are has several options available in terms of accommodation, ranging from the Business Hotels to Five Star Hotels, from Wildlife Resorts to Beach Resorts and from Guesthouses to Budget Hotels. All the luxury hotels are well resourced to provide a comfortable stay to their guests, while observing the international standards. Apart from luxury hotels, there are amazing resorts that ensure complete privacy of the guests and also provide them with the world class ambience.
To suit low budget requirements, the state has many guest houses and budget hotels as well. In fact, all the budget accommodations boast of every basic facility to grant a contented stay. The great fact about all the accommodations is that most of the hotels and resorts are sited at convenient locations. The presence of numerous places to stay is definitely a value to the people visiting Andhra Pradesh. Plan a trip to the state and experience the flawless services provided by its hotels.
Luxury Hotels
Kakatiya Sheraton and Towers, Hyderabad
Taj Krishna, Hyderabad
Taj Residency Hotel, Hyderabad
Hotel Taj Residency, Visakhapatnam
The Park, Visakhapatnam
Hotel Sitara, Ramoji Film City
Business Hotels
The Residency , Hyderabad
Tulip Manohar Hotel, Hyderabad
Green Park, Begumpet
Green Park, Visakhapatnam
Budget Hotels
Kamat Lingapur Hotel, Hyderabad
Hotel Meghalaya, Visakhapatnam
Krishna Residency, Vijaywada
Hotel Simhapuri, Nellore
Hotel Rajavihar Delux, Kurnool
Hotel Mayur, Nizamabad