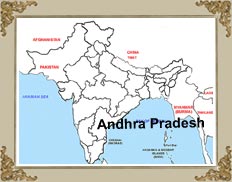 Andhra Pradesh is a wonderful state with serene beaches, holy pilgrimages and soothing rivers, amidst picturesque setting. The state is located between the latitudes of 12.41°to 22°N and longitudes of 77°to 84.40°E. Located in the south-east, Andhra Pradesh claims the distinction of being the fourth largest state (area wise) of India. It shares its border with Tamil Nadu in the south, Karnataka in the west, Chattisgarh & Maharashtra in the north and Orissa in the north-east. On its east, the Bay of Bengal renders the cool breeze to this state.
Andhra Pradesh also boasts of the second longest coastline in India, which stretches upto 970 km. The long coastline has been unofficially divided into three geographic regions, known by the names of Kosta, Telangana and Rayalaseema respectively. Andhra Pradesh possesses many hills that run intermittently, separating the state into western and eastern (coastal) Andhra. The hill ranges like Simhachalam, Annavaram, Srisailam and Tirumalai-Tirupati, have become the integral geographical part of state's life and history.
Godavari and Krishna are the two major rivers that pass through this state. The basins of these rivers and their tributaries cover almost 75% of the state territory. Apart from these major rivers, there are around 17 other rivers and streams flowing through Andhra Pradesh. The state also observes substantial topographical variations, due to thick forest in the north east, beaches next to the Bay of Bengal, plane paddy lands in the coastal plains and the barren boulder-spotted region near Hyderabad.