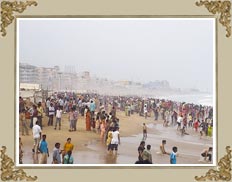 The beauty of Andhra Pradesh is remains alluring in every season. Though people make trips following their vacations and time schedules, yet one must know about the ideal/ best time to visit a particular place. While talking about peak season of Andhra Pradesh travel, one has to take into account the weather and climatic conditions of the place. Andhra Pradesh is essentially a hot and humid state in the southern part of India. However, the state observes three basic seasons namely summers, monsoons and winters.
In the summers (March-June), the temperature reaches above 40 deg C, making it extremely difficult for people to travel around in the scorching heat. Moreover, the proximity of coastline results in sticky and sultry weather. After summers, pre-monsoon showers come and provide a sigh of relief to the residents of Andhra Pradesh. Actually, irregular rainfalls are very common in the state, due to its closeness with sea. During summers too, rain comes, but it makes the climate more humid and damp.
Monsoons (July-October) remain for almost six months in the region, yet they are very erratic. It is only winter monsoons that actually provide a cooling effect to the state. From October till December, Andhra receives quite a good amount of rainfall. Winter season doesn't require the usage of thick woolens in the state, because temperature remains mostly above 16 deg C. Hence, the best time to visit Andhra Pradesh is between the months of October to February, when the weather of the state is at its best.