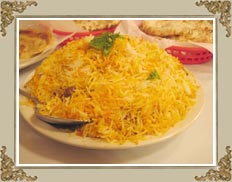 Andhra Pradesh is an ever enchanting state, which is all the more famous for its cuisine. Spiciest of all the Indian cuisines, the cuisine of Andhra has many delicacies to boast of. The 'Nawabi' style of the state reflects in its gastronomy too. Andhra dwellers usually prefer vegetarian diet. However, people residing in coastal areas rely mostly on sea-food. Coconut oil makes the regular cooking medium for Andhra gastronomy.
Andhra Pradesh is acknowledged for being the largest producer of rice in India. Moreover, rice is also the staple food grain that is consumed in large quantities in the state. Most of the traditional food and dishes in Andhra Pradesh are rice-based. Rice goes with both vegetarian and non-vegetarian meals also. Coconut, spices and fresh herbs are often added to flavor the basic dishes like rice, sambhar, other lentils and steamed vegetables.
Hyderabadi cuisine is another branch of Andhra cuisine that offers the royal recipes of the 'Nawabs'. Chilli powder, oil and tamarind are liberally used in it, making the food really spicy and tangy. Pesarattu, Pulihora (or pulihaara), Gongura, Avakkai (raw mango pickle) are the popular vegetarian delicacies of Andhra cuisine. In non-vegetarian delicacies, dishes like Kodi Iguru (fry), Kodi Pulusu (gravy), Chepa Pulusu and Hyderabadi Biryani, top the charts.
The most delightful delicacies of Andhra food include 'Murku' (roundels of rice flour paste deep fried) and 'Appadams'. Onion pakodas (fried), vadas (spicy lentil doughnuts soaked in hot sambar) and idlis (steamed rice muffin-like dumplings) are the popular snacks in the state. The main food is formed by 'Pulihara' that is actually tamarind rice with green chilies. The condiments like chutneys and pickles make a fundamental part of Andhra food.
'Putharekulu', 'Kakinada Kaja', 'Bobbatlu', 'Booralu', 'Payasam', 'Sheer Khurma' and 'Bandhar Ladoo' are the most popular sweets of Andhra Pradesh. Like other South-Indian states, a traditional Andhra meal is served on a banana leaf. This wholesome meal comprises five types of dishes with a variety of condiments and side-dishes. In Andhra Pradesh, each meal is accompanied by curd to provide respite from the hot spices of food.