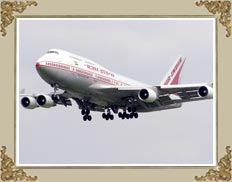 Acknowledged for its rich and diverse culture, Andhra Pradesh is a delightful state - radiant with its natural beauty. The state is also renowned as one the prominent IT hubs of India. Due to its sheer beauty and commercial reasons, people from all over the world come to visit this state every year. If you have planned to visit Andhra Pradesh and are pondering over the question of "How to reach there?", then keep your worries aside because the state has a well-planned network of airways, roadways and railways. It is well-linked with all the major cities and towns of India. Traveling to Andhra Pradesh is easy with variety of options available to reach there.
By Air
Andhra Pradesh has many airports to boast of. The international airport being located in Hyderabad, there are numerous domestic airports sited at cities like Tirupati, Visakhapatnam, Guntur, Secunderabad, Warangal, Vijayawada, etc. All the airports provide fine services to ensure a comfortable journey to the passengers.
By Rail
An efficient railway network connects the cities of Andhra Pradesh with the major cities of India. The state has a railway route of approximately 5,085 kilometer, of which 4,362 km is broad gauge, 686 km is meter gauge and mere 37 km is narrow gauge.
By Road
Andhra Pradesh has a well laid-out network of national highways and state highways passing through its expanse. More or less, the 4,104 km of the National Highways network move across Andhra Pradesh. The State Highways have about 60,000 km of covered network. Another network of 1,04,000 km is made by the Panchayati Raj.
By Sea
There are a number of commercial ports along the coastline of Andhra Pradesh. The most important port is the one at Visakhapatnam. Other minor ports consist of those at Kakinada, Machilipatnam, Bheemunipatnam, Krishnapatnam, Vadarevu and Kalingapatnam.