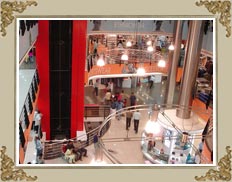 Andhra Pradesh is a state with royal charms, ranging from its historical monuments to colossal temples and lofty hills to vast coastline. Every thing about the place seems to be grand. When it comes to enjoyment, Andhra Pradesh has adequate sources of entertainment. However, one cannot expect the wide range of options like the metropolitan cities. Since Andhra is a huge state, many regions are not developed and require a quality time to work on their infrastructure.
To start with, Hyderabad is the capital as well as the most advanced city of Andhra Pradesh. Being a preferred destination for both leisure and commercial reasons, Hyderabad obviously has a variety places for amusement. This city brags many places, ranging from amusement parks to theme parks, cultural centers to sports clubs and golf courses to discotheques and pubs. 'Treasure Island' is the best place for those who want to enjoy the nightlife of Hyderabad.
In the vein of other metros, the city has come a long way with arrival of numerous shopping malls, world-class restaurants and nightclubs. The city doesn't observe active nightlife, but it has improved a lot. In big hotels like Taj Krishna and Sheraton, there are really happening discos, where you can shake leg on the dance tunes of DJ's. The bars and pubs of the city can offer you the best-selling brands of liquor in the most stylish manner.
10 Downing Street, 5th Element, 99 Megahertz, Atrium, Blue Water, Bottles & Chimneys, Cloud 9, Enigma, Ice Spice, Liquids Again etc. are some of the cool nightclubs for the party animals. Apart from Hyderabad, luxury hotels at places like Vishakhapatnam, Vijaywada and Warangal also arrange for the entertainment of their guests. Though bars and pub are present throughout the length and breadth of the state, the best ones are found in Hyderabad.