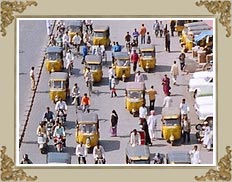 Since Andhra Pradesh is a very big state, local transport doesn't imply only taxis, auto rickshaws, buses and scooters but also includes means of transport like rails and airplanes. The government of Andhra Pradesh owns a major public transport corporation, namely Andhra Pradesh Road Transport Corporation (APSRTC). This corporation is accredited with connecting all the cities and villages of the state.
Possessing the largest fleet of vehicles and taking the longest run daily, APSRTC has been also acknowledged by the Guinness Book of World Records. The buses run by APSRTC cover the remotest areas of the state. Besides APSRTC, there are thousands of private buses that connect major cities and towns of Andhra Pradesh. The facility of express travel has also been introduced between the various cities of the state.
The extensive road system embraces three National Highways, which connects the state with all the major cities of the country. A huge network of roads is also maintained by the state and local governments. In the cities and adjoining villages, auto-rickshaws serve the requirements of the local transport. Tourists can easily hire private taxis, ranging from the luxurious to average ones, which are available in all the towns and cities of Andhra Pradesh.
The airports in regular operation are located at Hyderabad, Vijayawada, Tirupati, and Vishakhapatnam. Apart from these airports, there are other airports that are used during the peak travel season in Andhra Pradesh for going from one city to the other. Indian Railways also connects all the major cities and towns of the state with its wide network of railways. Serving a major portion of Andhra Pradesh, the rail system connects the state with other parts of India as well.