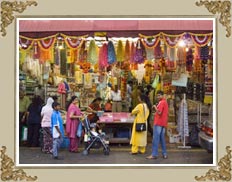 Andhra Pradesh is a huge state having numerous attractions to boast of. While traveling to any foreign lands, people usually ask about the specialties of the particular place. For shopping lovers, the first question naturally comes out to be 'what to buy'. Giving an answer to their question, Andhra has loads and loads of items to set anyone on a shopping spree. This state is known world-wide for its exquisite pearl and diamond jewelry.
Apart from the alluring jewelry, the state also has a remarkable collection of handicrafts, old antiques, beautiful silk and cotton weaves. There are ample of jewelry showrooms in Hyderabad that brag of their glittering charms and delicate ornaments. Other items include amazing pearls of Hyderabad, astonishing silver filigree, clothes with 'banjara' mirror work, exotic perfumes (atar), 'bidri' work, Kondapalli toys, etc.
Keeping the old traditions alive, Kalamkari work is still in progress, where fabric is painted with mythological depictions by pen. Machilipatnam is best-known for its astonishing 'kalamkari' work. 'Bidri' is another remarkable art, which employs silver engraving on black metal. Kondapalli toys use a kind of soft wood to create credible copies of vegetables, fruits, animals and dolls. Banjara mirror work is known for its amazing mirror setting. This work is usually done on clothes and fabrics.
Hyderabad is also famous for its exotic perfumes, which revives the thought of the 'Nawabs' and their royal taste. Not only this, Andhra Pradesh is all the more famous for its beautiful Himroo, Ikat, Uppada, Pochampalli, Dharmavaram, Venkatagiri and Mangalagiri sarees. Hand-woven carpets from the state are also known, especially for their delicate designs. Andhra's handicrafts are made by rural artisans and craftsmen, who are extremely good at the art.
In Warangal district, Cheriya is known for its beautiful paintings, while Pembarti for its brass metalwork. The art and crafts village of Shilparamam is the best place to find traditional handloom textiles, carpets, durries, bed linen and perhaps knick-knacks of all kinds. Another item in great demand is silver filigree, which observes exceptionally intricate designs on polished silver, requiring great patience and craftsmanship.
The main shopping places in Andhra Pradesh include Government Emporiums, Arts and Crafts Village, Basheerbagh, Abids, Nampally, Ameerpet, Himayatnagar, Begumpet, Somajiguda, Punjagutta Mahatma Gandhi Road, Begum Bazaar and Laad Market (Hyderabad). Bargaining is the essential feature of shopping in Andhra Pradesh. If you are not comfortable in bargaining, it is recommended to buy from Government emporiums that assure reasonable price as well as good quality.