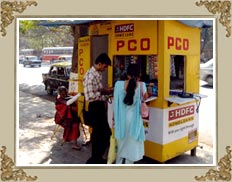 Andhra Pradesh is one of colossal states of India, which claims of a stout communication network. Being a major IT Hub, efficient means of communication are certain to this state. The effective communication infrastructure of the state links it with all the major and suburban cities. Telephones, Fax, Courier and Postage services are easily available throughout the length and breadth of the Andhra Pradesh. Not only telephones, postage and courier services, one can also avail internet surfing facilities at cyber cafes present everywhere in the state. In concise terms, it can be said that Andhra Pradesh has all the major modes of communication, ensuring a comfortable trip to the visitors.
Phones
In every nook and corner of the cities and towns of Andhra Pradesh, you can find facilities to make local call, STD (Subscriber Trunk Dialing) or inter-state call, and ISD (International Subscriber Dialing) or international call. Cell phones are a great hit in the Indian market and various companies offer instant network connectivity after subscription.
Internet Service
Many companies are providing high speed internet connection in all the major cities of Andhra Pradesh. You can keep in touch with your near and dear ones via internet. All these cyber cafes charge very nominal rates for their services.
Fax Service
Most of the booths providing calling facility also offer the fax services. With this, you can always send and receive copies of important documents, texts or images in Andhra Pradesh.