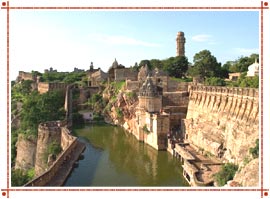 The legend has it that Bhim, a Pandava, stared the construction of the Chittorgarh fort, Udaipur. The fort has a number of magnificent structures within itself. A one km zig-zag accent leads to the Chittorgarh fort of Udaipur, Rajasthan. There are seven gates in the fort. The main gate you come across while walking up to the fort is Rampol, the gate of Lord Rama. A climb on the way between the second and third gate, takes to the two Chattris cenotaphs built to honour Jaimull and Kulla (heroes of 1568 siege by Mughal emperor Akbar). The main gate of the fort itself is Surajpol, the Sun Gate.
The Chittorgarh fort houses a number of palaces within itself. The palaces within the fort include Rana Kumbha Palace, Fateh Prakash Palace, Padmini's Palace, etc. bringing forth the romantic era of the Rajputs, is this hilltop fortress of Chittorgarh. The main attractions of the fort are:
Vijay Stambh
Vijay Stambh, meaning tower of victory, was built around 1440 AD. Maharana Kumbha got this fort constructed as a commemoration to his victory over Mohamed Khilji. The tower is nine stories high. Providing with an amazing top view of the whole town are the balconies of the fort. The sculptures of Hindu deities cover the Vijay Stambh. The tower is illuminated in the evening, making you fall in love with its bewitching beauty.
Kirti Stambh
A wealthy Jain merchant built Kirti Stambh, the tower of fame, in 12th century AD. It is dedicated to the first Jain tirthankar, Adinathji. It contains naked figures of Digambars. The tower is seven stories and 22 m high.
Other structures worth visiting in and around the Chittorgarh fort are:
Sammidheshwara Temple
Gaumukh reservoir
Palace of Queen Padmini
Bhimtal Tank
Neelkanth Mahadev Temple
Meera Temple
Kumbha Shyam Temple
Kalika Mata Temple