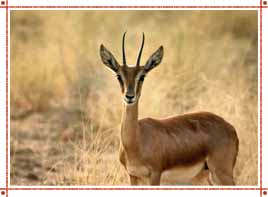 The most famous and well-known tourist attraction of Bharatpur is the Keoladeo Ghana National Park. Apart from that, there are numerous other places to see in Bharatpur. Some of the places that must be included in the Bharatpur Rajasthan sightseeing tour are:
Bharatpur (Keoladeo Ghana) National Park
The Bharatpur National Park is also known by the name of Keoladeo Ghana. The name Keoladeo is derived from a Hindu temple dedicated to Lord Shiva situated in the center of the park. The word Ghana means dense and refers to the thick forest that used to cover the park area at one point of time. The park houses approximately 375 species of exotic birds, both resident as well as migratory. Out of those, almost 132 breeds inhabit the sanctuary. The migratory birds arrive not only from different parts of India, rather, from places as far as Europe, Siberia, China, Tibet, etc. Bharatpur also serves as a habitat to animals like Sambar, Cheetal, Nilgai, Boar, etc.
Bharatpur Palace and Government Museum
The Bharatpur Palace owes its formation to a number of Maharajas. This beautiful piece of architecture is a blend of the Mughal and Rajput styles. The palace houses a number of apartments, decorated with elaborately designed patterned floor tiles. The main central wing of the palace has now been converted into a museum. The museum exhibits rich collection of artifacts dating back to as far as the 2nd century. On display, is an array of antiquities, exquisite sculptures, ancient inscriptions, etc.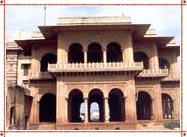 Ganga Mandir (Temple)
Ganga Mandir is an architectural wonder. Built by Maharaja Balwant Singh in 1845, this temple has a unique story attached to it. It is believed that all the people employed in the service of the state were asked to donate one month's salary or any increment in their salary for the temple. The temple was constructed out of this money only.
Laxman Mandir (Temple)
Laxman Mandir is dedicated to the younger brother of Lord Rama, Laxman. The doorways, ceilings, pillars, walls and arches of the temple are carved with intricate stonework.
Lohargarh Fort (Iron Fort)
The focal point behind the construction of the Lohagarh Fort was strength and defense. The fort withstood many attacks by the British. They fort is known not for beauty, rather, for the power and brilliance it exudes. It is unlike any other fort in the state of Rajasthan. Surrounding the fort is a moat, which acted as a form of defense against the enemy attacks. The fort has an Ashtadhatu (eight-metal) gate, adorned with huge elephant paintings. Other attractions of the fort include Kishori Mahal, Mahal Khas, Moti Mahal, Kothi Khas, Jawahar Burj, Fateh Burj, etc.