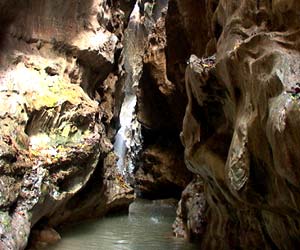 Dehradun is one of the most visited tourist attractions in Uttarakhand, mostly as a brief stopover en route Mussoorie. Located on the foothills of the Himalayan mountain range, Dehradun is a striking yet serene place. It is thought to be one of the oldest (read as ancient) cities in India. Indications of Dehradun are available in the Epic Mahabharata as the city ruled by Rajguru Drona. It is quiet natural that this mountainous place has many tourist attractions.
These tourist places include Sahastradhara, Malsi Deer Park, Robber's Cave (Guchhupani), Lachhiwala, Tapkeshawar Temple, Laxman Siddh Mandir, Tibetan Mindroling Monastery, Sai Darbar and Santala Devi Temple. Though this list may not be exhaustive, it helps in short listing the important and must-visit places in the Doon valley. There are a lot of comfortable and cheap guest houses and hotels providing outstanding lodging for the tourists. Read on to know more about these tourist destinations in detail.
Indian Military Academy
The Indian Military Academy is where the blue-blooded men who officer the Indian Army, second largest army in the world, are trained. IMA is one of the most prestigious institutions of India. It was inaugurated by Field marshal Sir Philp Chetwode in the 1932. The first batch IMA, known as 'pioneers' had on its role, great soldiers like Sam Manekshaw, Smith Dun and Mohd. Musa all of whom later became chiefs of their respective armies. The academy has a beautiful campus, just adjacent to the campus of FRI and even boasts of an 18-hole golf course. There is also a military museum in Chetwoode Hall which can be visited after obtaining prior permission from the Commandant of IMA.
Forest Research Institute (F.R.I.)
Forest Research Institute, spread over an area of about 2000 acres, was established in 1906. This beautiful estate is home to some of the largest and the best forestry research establishments in the world. The majestic main building of F.R.I. is an architectural marvel in itself. Built in Greco-Roman colonial style, this building includes six forestry related museums (on social forestry, pathology, silviculture, timber, non-wood forest products and entomology) which are very popular amongst the tourists. The estate also has a Botanical Garden which, with its sprawling lawns and colorful flowers, is a great spot for a day picnic. Also, located within this beautiful estate is Indira Gandhi National Forest Academy that trains probationer-trainees of the Indian Forest Service.
Assan Barrage Bird Sanctuary
Asan Dam Wetland, also known as Dhalipur Lake, was created in 1967. This is a popular tourist attraction around Dehradun offering great opportunities for birding, water-skiing, boating and casual outings. Located by the water's edge is also a refreshment café run by GMVN.
Besides, Dehradun is also home to other prestigious institutions like Wadia Institute of Himalayan Geology (WIHG) and Wildlife Institute of India (WII). While WIHG is involved in conducting a host of researches in the Himalayas, WII regularly conducts researches and training courses on wildlife.
Also nearby is, the famous Rajaji National Park that boasts of a variety of flora and fauna. Rajaji National Park can be entered through its Ramgarh (14 Km) Gate or Mohand Gate (25 Km).