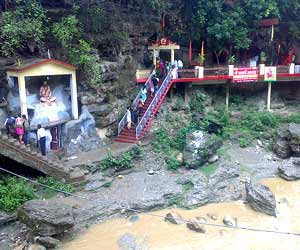 Dehradun is full of legends but so is the state of Uttarakhand it is situated in. The entire region was once supposed to be submerged under a lake but environmental changes made it a terrestrial heaven. There is a lot to see in the Doon Valley (as it is locally called), especially temples and the rivulet forests. Since the origin of Dehradun is related to the great epic Mahabharata, one can only imagine the legends and myths running deep here.
Tapkeshwar Temple
Located in the Garhi Cantonment area, about six kilometers from the main city of Dehradun, the Tapkeshwar Temple is an absolute combination of a religious destination with a tourist place. Dedicated to Lord Shiva, it is supposed to be the place where Drona, the guru of Pandavas and Kauravas, meditated to gain further knowledge.
The temple is set besides a seasonal river which reveals its full glory only in the monsoons. The water or moisture from the hills constantly drips (tapak) on the Shivling placed directly beneath the pores. This dripping gave the place its name of Tapkeshwar. Millions of people come to this temple on Shivratri to see the special ceremony where the marriage of Shiva and Parvati take place.
Laxman Siddh Mandir
The Laxman Sidh Temple is situated around 10 kms from the main city of Dehradun, very near to the Haridwar-Rishikesh freeway. It is located in the interiors of the Lachhiwala Forest in the Shivalik hill range. The temple is presumably built in the memory of a saint named Laxman who got Siddhi (meaning excellence in spiritual powers and hence he became Siddh).
Every Sunday a fair is held in his reminiscence where thousands of disciples pray for their own spiritual ascending. The Suswa River flows near the shrine enhancing the place's beauty and tranquility.