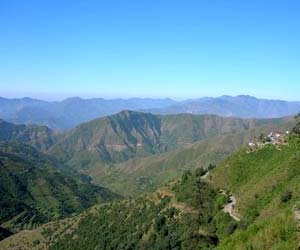 Chakrata is a small town near Dehradun which served as an infantry base during the British rule. It is especially known for tranquil, beautiful and pollution free surroundings. The hill station is positioned between the Rivers Tons and Yamuna at an altitude of 5,500-6,500 ft. The region was earlier known as Jaunsar Bawar from the local Jaunsari tribe, which still has a remarkable presence in the area. Chakrata is an access-restricted, special entry military cantonment with foreigners not allowed to drive inside the area. One has to show Indian identity proof before entering this secluded paradise.
Location
Chakrata is located approximately 92 kms from the city of Dehradun in Uttarakhand. The Kalsi Army Check post allows only Indians to drive through to Chakrata where one has to pay a toll fee.
Interesting Facts
The check post at Kalsi allows people to enter only at specific timings in the day which varies with the season. If one misses one time period then he/she has to wait for at least 2.5 hours before he/she can think of going inside. The timings start at 7am and then after every 2.5 hours; 1st October onwards timings become 7:30 am with the same time gap.
It is the permanent stronghold of the mysterious and cream of the crop Special Frontier Force, also recognized as 'Establishment 22' (called 'Two-Two'). It is the only traditional Tibetan unit of the Indian Army which was gathered after the Indo-China War of 1962.
During spring season, red Buransh flowers are in full bloom. Special juice is acquired by crushing the flowers with mortar and pestle.
Attractions
Tiger Falls:
An exhausting but enlightening eight kms hike from Chakrata lies the famous Tiger Falls. The place is pure poetry when all the elements of the gushing water, lush greenery and the charming pond come together.
Deoban:
This place is located about 20 kms away from Chakrata, surrounded by impenetrable Deodar (Cedrus deodara) forests. Positioned at an elevation of 2200 m, Deoban offers a comprehensive view of the Himalayan ranges.
Lakha Mandal:
Located at a distance of about 60 kms from Chakrata, this region has legendary worth due to its connection with the epic Mahabharata. It is believed that the Kauravas built 'Lakshagraha' (House of Lac) here to set ablaze the Pandavas alive.
Ram Tal:
Ram Tal Horticultural Garden, located 10 kms from Mussoorie Road, is worth one visit for its beautiful Apple gardens and natural pond.