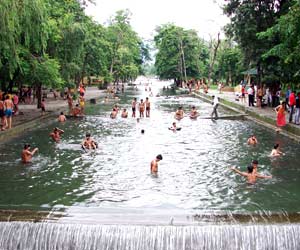 Dehradun is a beautiful place with lots of picnic spots. Two of these are quite famous, namely Robber's Cave (also known as Guchhupani) and Lachhiwala. Though they have different attractions to entice people, both these places are ideal examples of the treasures of nature in Uttarakhand. Guchhupani is basically a natural cave with an ice cold spring where erstwhile robbers used to hide from Britishers. Lachhiwala, on the other hand, is a picnic spot with just enough uncovered area amongst the forests with a river flowing nearby. Read on to know more about them.
Guchhupani
Guchhupani or Robber's Cave is located in Vijaypur near Anarwala, about eight kilometers from Dehradun Clock Tower. Since it is quite in the interiors of Anarwala village, one sometimes has to trek or take a sturdy vehicle to reach the place. This place as a picnic spot was established by the British Officials in the mid of their rule here. It is popular and is considered unusual because the freezing spring goes underground at someplace, reappearing a few meters away from the underground tunnel. This stream passes through cave, a natural rift in the mountains.
Lachhiwala
Lachhiwala is also a famous outing destination between the locals. It is located just three kilometers from Doiwala and about 22 kms from Dehradun. The place is really serene and striking being absolutely untouched by any kind of commercialization. Though many people prefer to go only for the day but the government has set up a guest house for overnight visitors.
One can take a dip in the Suswa River, pay their obeisance at the Laxman Sidh temple and then cook food in the open air for that extra thrill. The place is full of Sal (Shorea robusta) trees and anthills; the nearby forest also has monkeys so keep a check on you food items!!