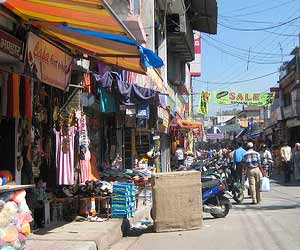 Shopping in Dehradun, Uttarakhand's capital city, with well stocked markets and shopping complexes, is an absolute delight. When you happen to visit Dehradun, don't forget to look for traditional Dehradun basmati rice which is world famous for both, its aroma and taste. Also the delicious Chakarata Rajma is available in the markets here that you can take home.
Though Dehradun in terms of shopping is almost the same as any big city, what makes the shopping experience memorable is that you find anything you want within close reach. The famous Paltan Bazaar near the Clock tower is one such place where you are sure to find whatever you want. Right on the entrance of this well stocked bazaar, you will find Kumar Sweets. Here you can enjoy snacking on Chat and other north Indian fast food, topping it up with lipsmacking Faluda Kulfi which is a specialty here.
The famous Rajpur road is one of the most popular market places in the city. Lined with retail outlets of all major brands of apparels, besides cafés, food courts and restaurants, Rajpur road offers a grand welcome to all who love to spend time shopping around in urban glitter.