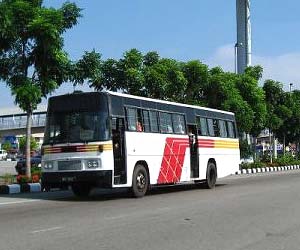 Dehradun is a captivating place, situated amidst the foothills of Himalayas, in the state of Uttarakhand. Dehradun is well connected with direct trains to important town and cities of India. It has a well-in-use airport - Jolly Grant at Doiwala - with the capacity to land Airbus A320s and Boeing 737s. Another choice of travel would be the deluxe overnight buses, plying almost every two hours from various bus terminals. This article will guide you on the various ways of reaching this beautiful city, which is the linking point for Haridwar and Rishikesh. So, read on and know how to reach Dehradun.
Traveling To Dehradun
By Air
Jolly Grant Airport is the airport serving Dehradun, located about 25 km from the city. There is a daily flight from Delhi for Dehradun
By Rail
Dehradun is an important terminus of the Northern Railways. It has direct trains connecting it with all the major destinations of the country. Trains like Shatabdi Express, Jan Shatabdi and Mussoorie Express ply daily from Delhi, making it convenient for even the foreign tourists landing at Delhi, to comfortably reach Dehradun. Apart from that, there are regular train services connecting Dehradun with Haridwar (52 km) and other major cities in Uttarakhand.
By Road
By road, Dehradun is well connected with major destinations of the country. NH72 connects Dehradun to Nahan (95 km) to the north-west, and thereon to Panchkula, Chandi­garh and Shimla. NH 72 terminates at Haridwar, which is at 54km from Dehradun. Dehradun is located at a distance of 235 km from Delhi. NH72A links Dehra Dun to NH58 at Roorkee (67 km) and thereon south to Meerut (170 km) and Delhi (235 km). There is regular bus service from Delhi for Dehradun from Delhi's ISBT Kashmere Gate.