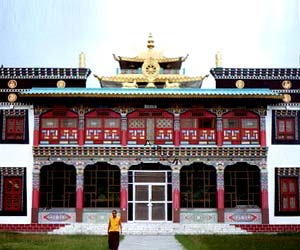 The Mindroling Monastery has a long history. Mindroling (pronounced as Minh-dro-lyng) literally means a 'Place of Perfect Emancipation' in Tibet and is a place of worship for the Nyingma sect of Buddhism. This sect has a total of six monasteries in Tibet, including the one in the Lhasa region of Tibet, on the south side of the Tsangpo River. The Og Min Ogyen Mindroling Monastery in Dehradun was established in 1965 when Khochhen Rinpoche with a few monks came to India and re-established the then destroyed Mindroling Monastery of Lhasa.
Location
Mindroling Monastery is located in Clement Town area of Dehradun. It is locally called the Tibetan Monastery area also.
The Stupa
The Stupa in the Mindroling Monastery was inaugurated on 28th of October, 2002, constructed for World Peace. Also called the Great Stupa, it is about 185 feet tall and 100 square feet in width. These dimensions make it the world's largest Stupa and a perfect case of Buddhist art and architecture. A two acre lush green garden surrounds this magnificent Stupa.
The façade of the Stupa is decorated with the colorful and spiritual painting of Maitreya or the future Buddha and Shakyamuni (the present Buddha) descending on the steps. This shrine has many floors, each one with one elaborate Tibetan Buddhist school of Art mural over other. Many sacrosanct relics also are to be found in the Stupa.
Spiritual School
The Mindroling Monastery in Dehradun is a major study center for Buddhist monks as it has a college for advanced Buddhist Studies. It is believed to be essential for conservation the continuous extraction of teachings and passing them on to the next age bracket of monks. This 'university' is called Ngagyur Nyingma College or Institute of Advanced Buddhist Studies. It has a nine-year course of subjects considered important enough to be taught regarding Buddhism. After this nine year graduate study, monks are expected to research on any subject taught for at least three years, completing it with outstanding knowledge and accomplishment, after which they will be called Khenpo (abbot).