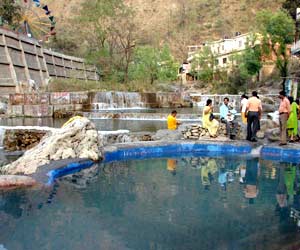 Its name deciphered as the 'Thousand Fold Spring' in English, Sahastradhara is one of the most beautiful and serene picnic spots in Dehradun . It is very popular amongst both the locals as well as the tourists coming to the city. Its name emerges from the fact that the water literally drips down from limestone stalactites numbering thousands. During monsoons the water flow increases and in turn the floral vegetation of the area increases significantly, much to the delight of visitors. Though at first the water came from a hill but over the years these stalactites have formed a sort of grotto or cave.
Location
Sahastradhara is situated around 15 kms east of Dehradun Bus Stand in the state of Uttarakhand.
Curative Reservoir
The 9 m fall of water of Sahasradhara through the lime shelf unconsciously summons the visitors. It has an aged appeal and magnificence which only matches the healing powers of its waters. Sahastradhara also has a Sulphur spring near falls which has the medicinal properties and supposedly cures skin diseases or ailments. In addition to curing the skin disorders, the healing aqua also has additional restorative distinctiveness. Due to these properties of the waters, many people come here just to take a dip and then relax.
Nature's Bounty
Very near to the springs is located the Baldi River which is an ideal place for excursions and picnics with your family and friends. After the day out in sometimes chaotic and business prone Sahastradhara, a rejuvenating picnic near Baldi River would prove a welcome change for all. And since the river area overlooks the Sahasradhara, it turns out to be an ideal place to laze around in the splendor of natural world.