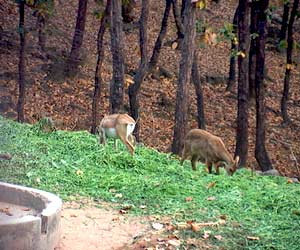 Malsi Deer Park, located in the outskirts of Dehradun, equally enthralls both the adults and children. It is one of the major tourist attractions in the city and also acts as a savior of natural environment from unnecessary business propositions. It falls on the way to Mussoorie (with a little diversion of course), another highly rated tourist spot. Malsi Deer Park is Zoological Garden based amidst the Himalayan vegetation and Shiwalik foothills.
Deer Family in Park
The place is full of sprightly young spotted deer breeds with a shy yet curious nature. More than once they will stare at you and when you go near them to take a better look or click a picture, they will just sprint away. Other than the Deers, there are beautiful peacocks enclosed in net cages for their fear of being poached. This reservoir also has a Neelgai, also known as the Indian Antelope. Since they are extremely rare and are on the endangered species list, it is a wonderful sight to see them in their natural environment.
Package for Entire Family
The park also has the Two-Horned Deer and a large population of different birds, making it an ideal place to have a mini picnic. The park authorities also have installed several slides to let the children enjoy while adults take a breather. They can also feed the different types of cute and cuddly rabbits. All these things make it a package for the entire family to go on an impromptu outing, the best part being they donít have to carry snacks as the park has a small but resourceful canteen.