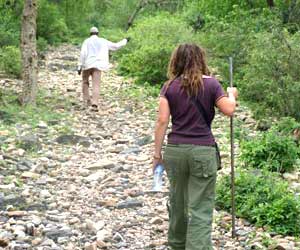 Dehradun, the capital city of Uttarakhand, is nestled amidst the thickly forested valley of the Shivalik ranges. Known for its salubrious climate, natural beauty and proximity to Mussoorie, the city was once a major base of the Garhwal kings. Today, it counts amongst the major cities of India, from tourism point of view as well as otherwise. In order to help you know more about Dehradun, we have listed information on what to do and see therein, through the following lines.
Fun Activities to Do in Dehradun
Trekking
If you are an adventure seeker visiting Dehradun, do not miss out on the opportunity of going on an exciting trek. The city serves as the base camp for a trek to the Kempty Falls in Mussoorie. Chakrata, almost 98 km from Dehradun, is also a destination for trekkers and nature lovers
Golfing
Dehradun offers its tourists the option to indulge in their favorite sport of golf as well. There is a mini golf course, called 'The Small Putt' in 'The Club'. Then, there is DSOI Golf Clubhouse as well, situated on Vijay Path. Hotel Mathuban in the city also features a mini golf course.
Cycling
The options for adventure activities in Dehradun are simply too many. For the cycling enthusiasts, the city offers the perfect tracks. You can start from Rajpur, along the Old Mussoorie highway, which has very low traffic and provides a gentle incline. About 20 km further from Old Mussoorie, the incline will start getting more and more steep, all the way to Mussoorie.
Water Springs
Guchhupani and Sahastradhara are the two water springs near Dehradun that surely merit a visit from tourists. The former is known for its freezing spring that goes underground at someplace and resurfaces a few meters away from the underground tunnel. The latter, on the other hand, is famous for its 9 m fall of water with healing properties.
Wildlife
Malsi Deer Park, situated on the outskirts of Dehradun, is yet another place that is a must-see for tourists, especially those with kids. A zoological garden, it is home to a large number of deer, which include the Indian antelope a.k.a. Nilgai and the two-horned deer. Then, there is a large population of brides as well, both residents and migratory.
Pilgrimage
One of the most famous pilgrim places near Dehradun is the Tapkeshwar Temple, dedicated to Lord Shiva. Apart from that, the city is also known for its Sai Darbar Temple, situated on Rajpur Road, and Santala Devi Temple, about 15 km from the city.
Hot Air Ballooning
Dehradun is one of those destinations in India where you can explore the opportunity of going on a hot air balloon ride. Floating hundreds of feet above the earth's surface, you will get to see the lush green valleys below, teeming with wildlife. There is a ballooning club in the city, which provides the service.