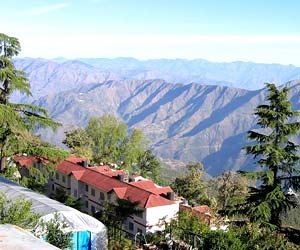 The capital city of Uttarakhand, Dehradun is famous for its scenic grandeur and beautiful surroundings. Dehradun and its surrounding places are adorned with the beauty of the Himalayas. There are several historical places, temples, natural springs, parks, picnic spots in the city's vicinity, which are surely worth a visit. In fact, a trip to Dehradun can't be successful without visiting the excursions around it. Apart from the natural beauty, there are several artificially built amusement parks around Dehradun that make an excursion trip interesting. Dehradun is also very close to famous hill stations like Mussoorie.
Tourist Places to See Near Dehradun
Mussoorie
Located only 35 km from Dehradun, Mussoorie is one of the most visited hill stations in the country. It is stunningly beautiful place, with extremely pleasing weather and exotic locales. A trip to Dehradun, without visiting Mussoorie, is as good as waste.
Sahastradhara
The name 'Sahastradhara' means the site of 'thousand springs'. Situated near Rajpur Village, approximately 16 km from the major township of Dehradun, it is a very popular picnic spot. The place becomes more attractive during rainy season, when there is abundance of water in the springs. The water of sulphur spring is assumed to have some medicinal properties that can help cure skin ailments.
Santaura Devi Temple
The temple of Santaura Devi is located approximately 16 km away from Dehradun, in Santur Garh. It is most crowded on Saturdays, as it is regarded to be the day of Goddess Santaura Devi and Her brother.
Guchhupani
Also known as Robbers' Cave, Guchhupani is the perfect picnic spot in Anarwala, situated approximately 8 km away from Dehradun. This serene and peaceful cave is surrounded by picturesque surroundings of hills and springs, making it definitely worth a dekko.
Malsi Deer Park
Malsi Deer Park is a recently developed picnic spot cum mini zoological park on Mussoorie Road, situated approximately 9 km from Dehradun. This is a perfect place for refreshment as well as for having a great time with your family.
Tapkeshwar Temple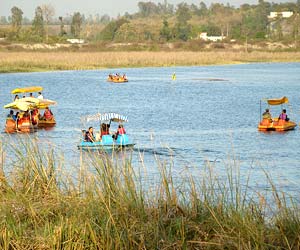 Tapkeshwar temple is an ancient temple of Lord Shiva, situated approximately 8 km from Dehradun, on the banks of a stream, in Garhi Cant. This place holds a lot of reverence amongst the devotees of Lord Shiva.
Rajaji National Park
Named after Shri C. Rajagopalachari, the last Governor General of India, Rajaji National Park is a place worth visiting, especially for all the nature lovers. The park is spread in over an area of 820.42 sq km and boasts of having more than 23 species of animals. There are century-old rest houses within the park, providing accommodation facilities to tourists.
Fun 'N' Food Kingdom
One of the most famous amusement parks near Dehradun, Fun 'N' Food Kingdom is the perfect destination for a family outing. Approximately 11 km from the major township of Dehradun, it is meant for people of every age group.
Kalsi
Kalsi is a place approximately 57 km from Dehradun. It is situated at the confluence of Yamuna and its tributary Tons. Apart from it scenic grandeur and natural serenity, this place is also famous for being the location of the Rock Edict of Asoka.
Asan Barrage
Asan barrage is situated at the confluence of two rivers - Yamuna and Asan, approximately 50 km from Dehradun. This is an idyllic place for bird lovers as well as water-sport enthusiasts. Near the Asan Barrage stands a Conservation Reserve, created to protect the endangered bird species.
Lachhiwala
Lachhiwala is a popular picnic-garden spot, situated on the banks of river Song. This place offers economical boating opportunities. It is approximately 22 km from Dehradun.
Chakrata
Chakrata is situated approximately 98 km from Dehradun. It is the perfect destination for trekkers and nature lovers.